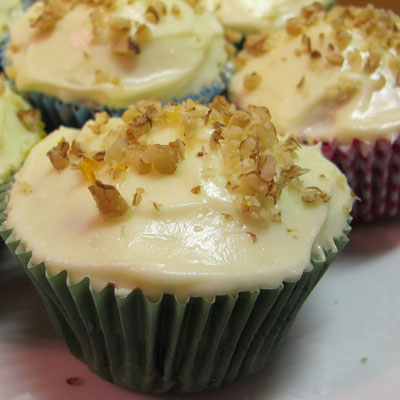 Today seemed like a day for Cake.
But then there aren't many days – or times of the day when cake doesn't suit, are there? Coffee, teatime, dessert – all perfect cake eating opportunities. Call it a muffin and you can even eat cake for breakfast without anyone looking twice!
These are carrot muffins. If you leave the icing off, you may even be able to describe them as healthy – lower than they could be in fat (milk and oil instead of butter), bursting with lovely vegetables (lots of carrots) and lots of fibre (made with part Oatbran and part flour).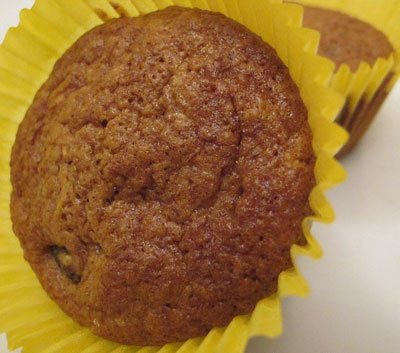 But I'm never sure that describing a cake as 'healthy' is much of an advert for it!
Eating cakes that are too blatantly low-fat, healthy, good-for-you cakes leaves me feeling ever-so-slightly cheated. I mean, what's the point? Cake really ought to be: indulgent, creamy, sweet, sticky, gooey….. you get the idea.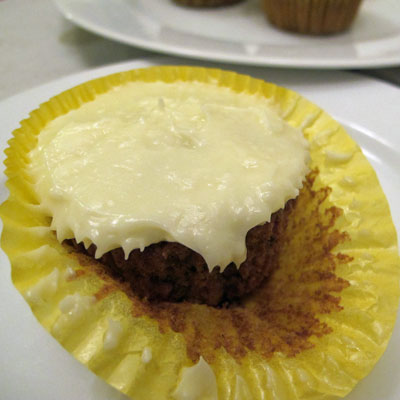 So let me reassure you – these are lovely moist carrot cakes with a delicious hint of orange and topped with gorgeous cream cheese icing. They certainly fulfilled all my expectations of a cake eating experience. Lets not dwell on whether the cake is really low fat or good for you, in case it spoils the enjoyment of what should be a treat!
As such I'll be sending them across to the April Tea-time Treats run by Kate at What Kate baked (this month), and co-hosted by Karen of Lavender and Lovage.
This recipe grew from wondering what to do with a packet of oatbran that my husband had bought one day by mistake when looking for porridge oats, and was inspired by two recipes. The orange flavouring is a delicious touch I hadn't tried before and was inspired by this article in the Guardian about how to make perfect carrot cake.
Carrot Cake Muffins
(Makes 10)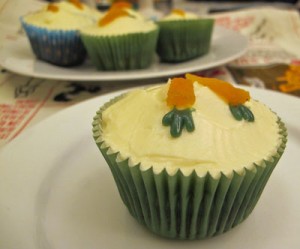 Ingredients
50g oatbran
50 mls milk
100g self raising flour
100g soft brown sugar
1½ teasp baking powder
¾ teaspoon ground cinnamon
pinch of salt
50 mls oil
2 eggs
zest of ½ a large orange
few drops of vanilla extract
130g finely grated carrot
100g sultanas

For the icing:

75g butter
150g icing sugar
100g cream cheese
few drops vanilla extract
Directions
Place milk and oatbran in a bowl together and leave for a few minutes for the oatbran to absorb the liquid
Put flour, sugar, baking powder, cinnamon and salt into a bowl
Measure out the grated carrot and sultanas
Put oil into a jug and add the eggs. Beat until eggs just incorporated
Add to the dry ingredients with the orange zest and vanilla and mix well until a uniform consistency.
Spoon the mixture into a lined muffin tray – each needs to be about ¾ full
Bake at 180ºC for about 35 minutes until browned on top
Cool in the tray
Make the Icing: Soften the butter and cream together with the sugar and the soft cream cheese. Add vanilla to taste. Ice the muffins when cool. Decorate as you wish – dried apricots and chives / green writing icing for carrots.