If you do a search on Google for 'Tomato Sauce' you will get over 20 million hits (- in 0.38 seconds – I wish I could think that fast!).
But I still think it's worth giving you this recipe. It is delicious. Maybe it's all those gorgeous ripe tomatoes and red peppers – gently roasted with garlic and basil to bring out the sweet juiciness…
Whatever the reason, the end result is very very tasty – surprisingly so (and I've eaten a lot of tomato sauces!).
And it's beautiful (- please excuse the picture my youngest was trying to draw with the cream).
It's also quick and simple to prepare.
Last week it was made even better by both tomatoes and red peppers being on offer – total cost £2.82 for soup for 4-6 people.
It's also freezable. And very versatile – with many different ways you can serve it up. Such as…
Roast Tomato and Red Pepper Soup
Roast Tomato and Mascarpone Pasta Sauce
Heat 500mls sauce in a saucepan. Stir through 1-2 tablespoons of creamy mascarpone sauce and serve with pasta – topped with a handful of shredded fresh basil leaves.
Prawn, tomato and mascarpone pasta
As above but add 400g cooked prawns to heat through with the sauce before adding the mascarpone – supper in 15 minutes!
Oven-baked cod with Tomato and Garlic Sauce
Place 600g cod fillets on a baking tray (I used frozen), dot with butter, add a couple of tablespoons of water and bake for 15-20 minutes until cooked through. Heat 300ml Roast Tomato and Red Pepper Sauce in a pan and pour over the fish to serve (- Supper in 20 minutes).
Homemade Pizza
Use as a sauce for pizza
You could also use this as a base for these other recipes (which I haven't tried as yet but hope to):
And I'm sure there must be plenty of other ideas!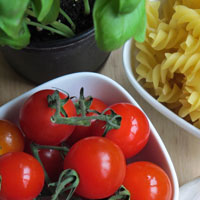 I would suggest using really ripe tomatoes and roasting them for the best flavour. I don't peel the tomatoes as that doesn't fall into my definition of 'simple' and we like the texture, but of course you can if you wish – but I do remove the white cores.
If you like smooth soups it's probably best to sieve the soup at the end before serving – just remember this will reduce your portions.
Roast Tomato and Red Pepper Soup
(Serves 4 – 6)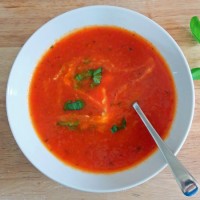 Ingredients
About 1.2kg ripe tomatoes, washed and quartered
A generous splurge oil (about 2 tablespoons)
2 red peppers, washed, de-seeded and chopped coarsely (you can use yellow peppers – this gives you a more orange sauce as you'll see from some of my pictures)
1 medium onion, peeled and chopped into wedges
1 medium carrot, peeled and cut into chunks (approx 2 cm)
1 clove of garlic chopped
a handful of fresh basil leaves torn into pieces
salt and pepper
Directions
Heat the oven to 190°C.
Put all the vegetables in a roasting dish with the oil, garlic, basil and seasoning.
Roast for about 50 minutes until they are softened, stirring once during that time.
When cooked, empty into a food processor and blitz until it is the texture you like. This amount will make you about 1.2 liters, which is enough to serve up as soup to 4-6 people. If you're going to be using it as sauce then it's probably enough for about 2 meals for 4 (see ideas above).
If I'm going to freeze it I freeze it at this stage.
Soup: If you want a smooth soup, puree finely and then push through a sieve. If you want it slightly more liquid add a little vegetable stock, but we normally just blitz, reheat and then serve with a dollop of creme fraiche and lots and lots of fresh basil to scatter over the top.
Sauce: Leave as it is – it won't win you Masterchef but it is tasty and we like the texture! Check the seasoning before serving.
I've linked this up to Lavender and Lovage's Cooking with Herbs Challenge, in which Karen has asked us to cook with fresh herbs this month. Why not go over there and have a look at all the other lovely entries?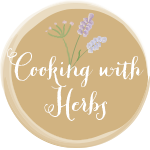 Loading InLinkz ...