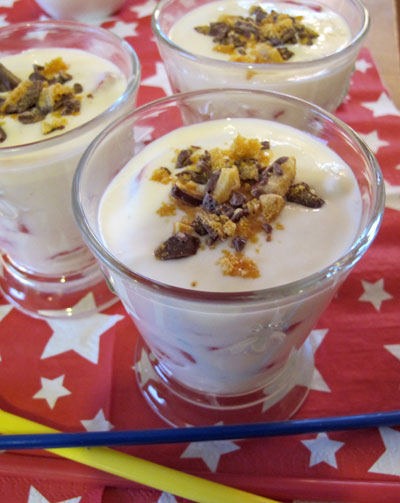 Eton mess – the story goes – was first eaten after a meringue pudding was crushed by a yellow labrador whilst on the way to a picnic at Eton sometime in the 19th century. The remains were salvaged and served up as Eton Mess.
Like many of these stories, this one (Wikipedia tells us) is not true.
Maybe that's a bit of a relief – the thought of dog hairs in your pudding doesn't sound very appealing.
Whatever its origin, Eton Mess – a mixture of strawberries, cream and crushed meringue – is a very simple, quick and easy pudding to make, that is undeniably delicious, but equally undeniably high-calorie and high fat.
Have you ever looked up the exact fat content of double cream? If you haven't I suggest you don't unless you never want to eat double cream again. Unfortunately I did the other day – hopefully I'll forget it soon – but that explains why I was looking for a low-fat version of Eton Mess.
This recipe is certainly low fat. My son tells me I can't call it Low-fat Eton Mess as it isn't quite the same. He's right – the only thing that tastes like double cream is double cream, but this is a whole lot less fat and still tastes deliciously rich and creamy. Why not see what you think?
Not-Quite Eton Mess
(Serves 4)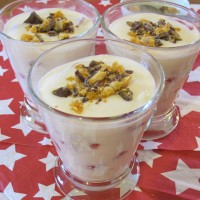 Ingredients
200g strawberries, hulled, washed and sliced
500g low-fat Greek style natural yoghurt
Approx 4 tablespoons caster sugar
A few drops vanilla extract
Approximately 5 small meringues (I used shop bought), broken into pieces
Directions
Mix everything together in a bowl. Taste to make sure you've added enough sugar for your taste. Make sure you don't add the meringues until the last minute or they will go soggy
Divide into separate dishes – decorate with strawberry slices / grated chocolate / crumbled crunchie bar – and serve