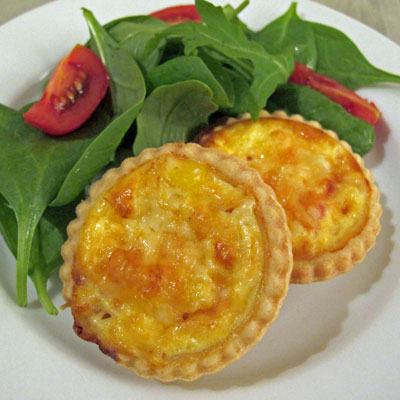 This recipe is – I admit – somewhat out of character for me.
The problem is that for someone (like me) that likes to see great results in the kitchen with the minimum of time and effort (certainly on a weekday), it takes just a bit too long. But these tasty little mini-quiches are so popular with the family that I do knuckle down from time to time to make them. On top of that they are simple and a good way to use up leftovers or create supper out of thin air when the fridge is apparently empty. And – of course – they are cheap.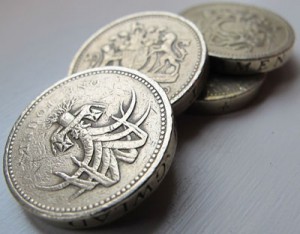 And cheap is what I'm aiming for during this week of budget friendly meals – I worked out that these cost £2.50 for 36 (assuming you use any left over ingredients in other things), so I guess it depends how many you actually eat as to what the actual cost of the meal is. Even in our hungry household we had plenty left over for lunch the next day.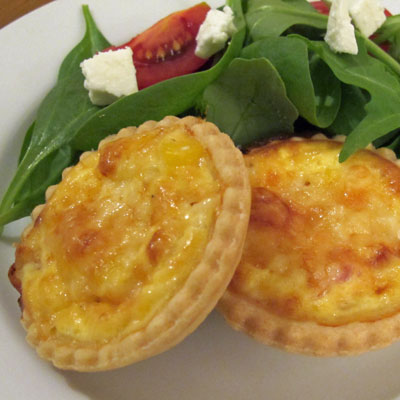 As I said they're not as time-friendly as I would usually look for on a weekday evening. These probably took me about 1 ½ hours to make start to finish, but that included letting the pastry rest in the fridge. If you made that the evening before it would considerably reduce the time needed.
If you don't have ham and sweetcorn then you could always try some other combinations.
Ham and Sweetcorn Mini-quiches
Makes 36 – and cost me £2.50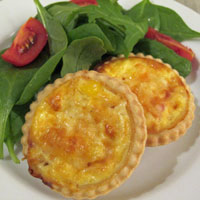 Ingredients
For the pastry (or buy ready-made shortcrust):
350g plain flour (28p)
175g butter or margarine (margarine 48p)
approx 4 tablespoons cold water
For the filling:
Approx 2 slices cooked ham (80p)
About a 1/4 tin of sweetcorn (8p)
60g finely grated cheddar (36p)
2 eggs (I bought free-range so they cost 42p)
175 mls milk (8p)
salt and pepper
Directions
Make the pastry – put flour into food processor with a pinch of salt, and whiz for a couple of seconds. Add the fat chopped small and whizz for a few more seconds until the fat is incorporated as fine breadcrumbs.
With the motor going, add 4-5 tablespoons of cold water until the mixture starts to stick together. Remove from food processor and form into a ball – cover with cling-film and leave in fridge for about half an hour.
Meanwhile grease a 12 hole bun-tray (3 if you have them) thickly or the quiches stick, and heat oven to 190°C.
Roll out pastry, cut out 7.5cm rounds with a pastry cutter and place in bun tins.
Chop the ham up small and scatter a few pieces in each quiche and add a few sweetcorn kernels.
Beat the eggs into the milk, season with pepper, and pour a little into each pastry case to within a few mm of the edge (probably about a dessertspoon in each). Scatter over a little grated cheddar and then cook for about 15-20 minutes until the pastry and the cheese are nicely golden.
Scoop them out of the trays with a plastic knife and either eat or leave to cool on wire racks if you're not eating them straight away.
Serve with coleslaw and new potatoes. They are very more-ish so if you're planning for leftovers you may do well to hide some before serving up!
As these mini-quiches are cheap and a good way of using up leftovers I'm going to link this to April's Credit Crunch Munch – a linky run by Fuss Free Flavours and Fab food 4 All, encouraging us to share our money-saving ideas.