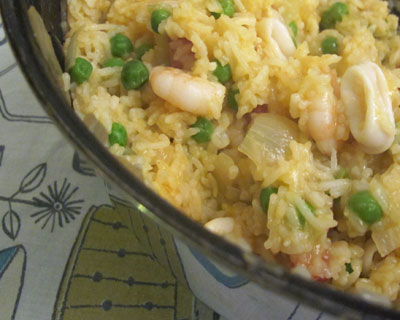 A recipe to impress!
(But – remember that people won't be impressed however well you cook it if they don't like seafood).
Buy the seafood salad on the day and defrost just before you need it – or alternatively (if the mussels and squid are not quite to your taste) use a mixture of cooked chicken cut into small chunks and cooked prawns (again- buy prawns on the day you want to eat them).
Easier-than-Easy Paella
(Serves 4)
Ingredients
1 tbsp olive oil
1 leek or onion, sliced
150g (approx) pack chorizo sausage, chopped
1 tsp turmeric
300g long grain rice, washed – place in a sieve and run cold water over it
1 litre hot fish or chicken stock, made with water just boiled in the kettle poured over two stock cubes
200g frozen peas
400g frozen seafood mix, defrosted
Directions
Heat the oil in a deep frying pan, then soften the onnion for 5 mins (over a medium heat) without browning.
Add the chorizo and fry until it releases its oils. Stir in the turmeric and rice until coated by the oils, then pour in the stock.
Bring to the boil, then simmer for 15 mins, stirring occasionally.
Tip in the peas and cook for 5 mins, then stir in the seafood to heat through for a final 1-2 mins cooking or until rice is cooked.
Check for seasoning (we didn't add any salt and pepper by mistake and is still tasted fantastic), and serve immediately with lemon wedges.