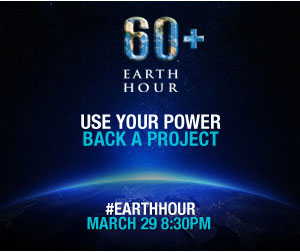 Did your Mum tell you that there is a time and a place for everything?
Mine did. Turns out she's right – certainly about the time part.
This week we've had lots of important days – the first day of Spring (yay!), World Water Day and coming up on the 29th March is Earth Hour – 8.30 pm to be precise.
Earth Hour started in 2007 in Sydney, Australia, when over 2 million people and more than 2000 businesses turned off their lights for one hour as a stand against climate change. A year later, 50 million people took part across 35 countries.
Will you be turning off your power for an hour this year? An interesting thought isn't it? I well remember a power cut one evening when the children were very little. We could make up for the lack of lighting with torches and candles. Much more difficult was the lack of computer games, heating and telephone lines. Talking about it with the children this year, they just stare blankly and ask 'What will we do?!'
There is no denying that raising awareness of important issues like climate change with a special day is admirable, and presumably it does the job. But search on the internet for National Celebration Days and you can come up with a day for just about anything.
According to this site today is Chocolate Covered Raisins Day! (Am I only the person to ask why?)
This would of course be the moment to casually introduce a recipe for Chocolate Covered Raisins, but I can't say I know how to make them! I can offer you Chocolate (or not) Apricot Cereal Bars and our adventures with them (read more here).
The special 'day' in our family this week is Friday. It's the last day of term for Youngest Son so the holidays are nearly upon us!
I hope you have a good week!
What Special Days have you got coming up this week? Are you going to be taking part in Earth Hour?