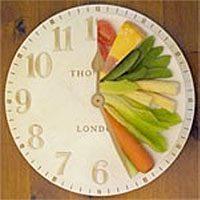 Having posted a budget menu plan a few weeks ago, I thought that I would have another go at it. This time it costs £21 (£20.97) which I don't think is bad for 5 weekday family meals (serving 4 people) that all take about half an hour to get on the table.
Prices are calculated from Sainsbury's products quoted on mysupermarket.co.uk.
If you click the arrows to the right you will be able to see the recipe instructions.
(As you can see I've had some fun with Java and the layout. I'm still working on it so please let me know what you think!)
To make the Sausage Casserole:
Peel and slice 1 onion. Fry in a thick bottomed casserole with some oil until soft.
Brown a pack of 8 sausages under the grill. When cooked cut each into thirds.
Add 1 tablespoon of tomato puree, 1 tin of chopped tomatoes, the sausage pieces, 1 tablespoon of worcester sauce, and ½ – 1 teaspoon of dried mixed herbs.
Bring to the boil and simmer for approximately 10 minutes, adding one tin of cannellini beans (drained) for the last few minutes.
Serve with a big bowl of steaming potatoes and cabbage
Tonight, you will need to:
Turn oven onto 200&#176C.
Into a roasting dish, put:

1 onion, cut into wedges,
2 peppers (1 red, 1 green), de-seeded and cut into chunks,
4 ripe medium tomatoes, chopped into quarters,
1 courgette, sliced thickly,
1 pack of back bacon, cut into small strips
some fresh basil leaves, (or use dried)
and mix together with 1-2 tbsps olive oil.
(ALSO – Deseed and chop 3 more mixed peppers and place in a small tray with some oil. Cook these tonight for the Goats cheese and Roast pepper tarts tomorrow)

Roast in the oven for about 20-30 minutes until all the bacon and vegetables are cooked.
Meanwhile, cook approximately 400g pasta (I used fusilli) in a large pan of boiling salted water. Drain when done, reserving a couple of tablespoons of the cooking liquid. Stir through the pasta.
Tip the pasta into a large serving dish. Add 100g half-fat creme fraiche and mix it in. Stir through the vegetables.
Serve with 100g grated mature cheddar to sprinkle on top.
Put the 'extra' cooked peppers in the fridge to keep for tomorrow nights tarts
Directions:
I use a sheet of ready rolled puff pastry (375g) for this (but to stay in budget you need to buy the packs of ready made pastry), which needs to be taken out of the fridge a few minutes before you want to use it.
Wash and slice 3 medium tomatoes. Cut 75g goats cheese into thin slices.
Roll the pastry out on a floured board (or unroll the pastry sheet). The sheets cut nicely into six rectangles. Place on a greased baking tray. Score around each pastry rectangle with a knife about one centimetre in from the edge.
Scatter some basil (either dried or chopped fresh basil leaves) over each rectangle. Then, using the peppers you reserved from yesterday, arrange the peppers and tomato slices inside the border you have marked. Top with the goats cheese slices.
Drizzle with a little olive oil and then cook at 200&#176C for about 20 minutes until the pastry is golden brown.
While cooking boil some new potatoes and make some coleslaw to go with them. Cook an extra 200g new potatoes to save for the Chicken kurma tomorrow.
Tonight:
Slice one medium onion and cook in a little olive oil until softened.
Chop 300g chicken (I used part of a pack of chicken thigh fillets) into small pieces and add to the pan. Cook for a few minutes stirring to make sure they cook evenly.
Add 1 – 2 dessertspoonfuls of kurma curry paste to taste (I used Pataks) and stir over the heat for a minute or two.
Chop a small cauliflower into florets and add to the onion. Stir until all evenly covered with the curry paste. Add approximately 150 mls chicken stock. You need just enough to ensure the cauliflower cooks but not so much that the kurma is really liquid at the end.
Meanwhile, cook 300g basmati rice.
The cauliflower should only take about 5-10 minutes to cook – a couple of minutes before it is ready, add 100g frozen peas and 200g cooked new potatoes (from yesterday). Bring back to the boil and simmer for a few minutes until everything is cooked through.
Take off the heat and stir through 2 tablespoons of natural yoghurt (or as we're budgeting use up the remains of the creme fraiche.
You need to:
Dice about 150g chicken (I used the remains of the chicken thigh fillet pack from yesterday – or you can use leftovers) into small pieces and fry in a little oil till cooked. Remove from the pan and keep on one side for later.
Melt 1 oz butter in the pan. Add 1 onion, diced and 500g leeks, sliced and washed. Stir until all the vegetables are covered with butter, turn down the heat, cover and leave the vegetables to sweat for 5 minutes or so until the leeks are soft.
Add 2 large potatoes, diced small, and stir. Add 750mls of stock, bring to the boil and simmer for 10 minutes until the potatoes are cooked. Add 100g frozen peas and continue simmering till they are cooked.
Puree half the soup – it's nice to have satisfying chunks of vegetables left in it – add back to the other half with the chicken and 250 mls milk. Heat through and serve with warm crusty rolls or homemade bread.